MyIrancell is an all-in-one Super App!
With MyIrancell super app, not only can you manage your Irancell account in the simplest way, shop data and voice plans easily, pay your postpaid SIM card bill, or recharge your prepaid SIM card, but you can also access a large market of various Irancell & non-Irancell digital services and products; so that you won't need to install a great number of applications on your device!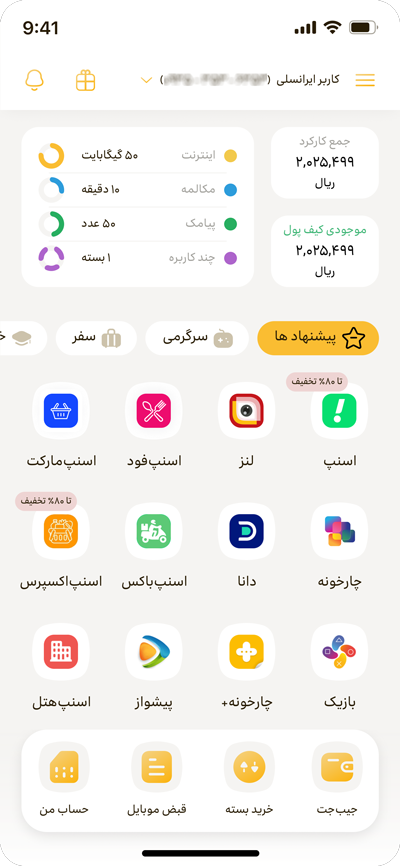 Features of My Irancell Super Application
Irancell Account Management

 Shop data and voice plans

 Shop different types of fixed and portable modems

 Create and purchase shared plans and share data with friends and relatives

 Send data plans as a gift

 Buy recharge & WOWrecharge through banking portals

 Pay your bill

 Easy and safe payment of Irancell fees by JibJet wallet (no need for dynamic PIN)

View your account details:  account credit limit, balance, outstanding debts, usage amount, payable amount

 View the remaining  data from your plan

 Automatic renewal of data plans in case your data is used up or expired

 Adding and managing an unlimited number of Irancell lines and/or portable modems and TD-LTE

 Shared account management (activation, plan purchases, adding or removing users)

 Canceling paper bills

 Request to switch prepaid SIM cards to postpaid (with exclusive prices for each user)

 Request to upgrade your 3G SIM card to 4G

 Access to TD-LTE account

 View and activate promotional offers based on your usage rate in the offers  section

 Manage how you receive system messages about your data plan remaining quota and more.

 View the list of active value-added services (VAS) and the option of canceling them.

 View the history of your latest 15 usages, shopped data plans, and recharge

 Set an appointment for visiting an Irancell Service Center

 Initiate a complaint and follow it up

 Refer and follow up your requests and review them

 Contact Irancell call center

 FAQ
Easy access to Irancell social media channels
Festivals, Gifts, and Special Offers
From January 21th 2023 to April 20th 2023, participate in the iPhone 13 lucky draw on MyIrancell SuperApplication and be the lucky winner of 1 of 3 iPhone 13s.
All you need to do is use any of the available services on the "Golden" tab on MyIrancell SuperApplication, such as Snapp, SnappFood, Pishvaz, Ice Scoring, BimehBazar, and SnappExpress in this period to participate in this lucky draw.
By making a purchase or using any of these services offered by MyIrancell SuperApplication, you will receive one point, and the more points you get, the more chances you have to win a prize in this lucky draw.
If you have already installed MyIrancell SuperApplication, you can easily access the "Golden" services by dialing the USSD code *210#.
If you have never installed and used MyIrancell New Generation super app on your smartphone, you will get 50GB gift data (valid until the end of the activation day) when you install and log in to the new generation super app for the first time! You can activate this gift plan from the main page of MyIrancell.
If you have already received the first login gift by installing and logging in to older versions of MyIrancell, you cannot get it once more after installing MyIrancell New Generation.
The 50GB data gift package is a dedicated gift for the first installation and logging in to MyIrancell New Generation super app and doesn't apply for the cases of installing and logging in to older versions of MyIrancell.
Invite your friends to use MyIrancell New Generation super app; as soon as they install and log into the super app for the first time, 1GB free data (valid for the same day) will be given to you and 50GB free data (valid for the same day) to your friend!
If you have not used MyIrancell for 30 to 90 days, you will receive 1GB data and 100min free on-net voice (with the validity of the same day) upon your first login after this period.
If it is more than 90 days as of your last login to MyIrancell, you will receive 1GB gift data (valid for the same day) with the first login after this period.
* These gifts are not subject to logins to the web version of MyIrancell and will only be awarded to you by logging to MyIrancell through android versions or advanced web application (for iOS users).
Be the first to know about Iranselman's super application festivals:
A Set of Unique Services and Features
Digital Wallet (JibJet)
Easy access to various Irancell services
Customization option
Easy and safe account management
Various digital services and products
History of provided services
Offer Your Services on MyIrancell
If you are a business owner and you want to provide your services in my Irancell super application, you can submit your request for Irancell experts to review it and contact you.
Log a request for cooperation
Offer Your Services on MyIrancell
"My Irancell" Super App Download
If you do not have My Irancell super app on your mobile phone, you can download it here.
in Safari explorer my.irancell.ir Enter
After being redirected to the page, choose 

 in the lower bar
Click on "Add to Home Screen".
Choose "Add" button.
MyIrancell icon has been added to your apps screen now. Click on it to open the app
FAQ
Yes. Just search My Irancell in these platforms and you can find and download it.
To log in, you can use the OTP which you will receive through your submitted mobile number or email address. TD-LTE users can also submit their mobile phone number to get this OTP. In any case, if you set an Irancell password, you can always use this password to log in to MyIrancell app.
No. Your SIM card could be in any device. For logging in to MyIrancell, you just need to enter your Irancell number or password in the related field.
Yes. By entering MyIrancell's main page, the remaining amount of all your data packages, your prepaid balance or your postpaid due amount will be visible and you can know about the details of your SIM card usages.
Yes you can. In the main page of MyIrancell tap on "Package". Now you can see the available data packages with their specific price, usage allowance and expiry date and then choose your desired one from among them. The cost of purchasing data packages will be debited from your prepaid SIM card balance or included in your postpaid SIM card bill.
Yes. Please go to "Contact Us" section and there you can put any requests, suggestions or complaints you may have!
Yes. Based on your SIM card type, you can follow one of the methods below to view your call logs:
Postpaid SIM cards: My Account > Profile > Bill > Get Previous Bills
Prepaid SIM cards: My Account > Profile > History > Last 3 Months Usage History
You can use MyIrancell in Persian and English