If you prefer to go ahead and use data, make calls and send SMSs and pay for all at the end of the month, iSIM is the best plan for you.
You'll then receive a bimonthly bill which can include an itemized bill too as per your request. The bill will be emailed to you and you'll have 28 days as of the issuance day to pay it.
All you MTN Irancell postpaid subscribers can take part in "No Paper Bill" campaign to no longer receive the paper bill; in addition to having a great role in preserving the environment, you'll receive 2GB free mobile internet. For more information you can visit "No Paper Bill" campaign page.
How to buy and use MTN Irancell postpaid SIM card

You can choose either of the following ways to buy a postpaid SIM card:

Refer to our online purchase website, choose your number and buy it.
Refer to one of MTN Irancell service centers
Refer to an MTN Irancell authorized dealer
Refer to our online auction website, choose your number and buy it.
Refer to our postpaid gold website, choose your golden number and buy it.
Dial *555*16#

Basic Tariff plans for MTN Irancell postpaid SIM cards

In case of purchasing a postpaid SIM card, you'll be subscribed to the respective "Basic Tariff Plans". Anytime you have the chance to choose among one of the voice packages below according to your usage pattern and get to save more.

| No | Min | Price (Toman) | Discount Percent | Validity | Activation Code |
| --- | --- | --- | --- | --- | --- |
| 1 | 100 | 5,500 | 8% | 30day | *555*55*1# |
| 2 | 200 | 10,000 | 17% | 30day | *555*55*2# |
| 3 | 400 | 18,000 | 25% | 30day | *555*55*3# |
| 4 | 800 | 32,000 | 33% | 30day | *555*55*4# |

Above packages are for on-net calls (form an MTN Irancell line to another MTN Irancell line), and off-net calls (from an MTN Irancell line to other lines) and calculated considering pay as you go plan. Calls, SMSs, MMSs and data charges for postpaid SIM cards respective to "Basic Tariff Plans" are detailed below:

| Service Type | Cost |
| --- | --- |
| On-net Calls (calls to other Irancell numbers) | 0.99 Tomans/Sec (59.9 Tomans/min) |
| Off-net calls (calls to other operators) | 0.99 Tomans/Sec (59.9 Tomans/min) |
| SMS to mobile lines (Persian) | 9.9 Tomans |
| SMS to mobile lines (English) | 22/2 Tomans |
| SMS to land line (Persian or English) | 13 Tomans |
| International SMS (all countries) | click here |
| MMS | 19.9 Tomans |
| Mobile Internet (all hours) | 0.04 Tomans/Kb |

Mobile internet data

Mobile internet data is measured in kilobytes. There are just 1024 bytes in one kilobyte (KB) and 1024 kilobytes in one megabyte (MB). You can calculate how much you are spending by multiplying the number of KB you send and receive by the relevant Mobile Internet tariff. Each byte is calculated and for tariffing purposes is rounded up to the next KB. For instance, if you use 1025 bytes, it means you are spending 2 KB.
After the end of your monthly package, you can use the out of bundle internet up to 100 MB (Tariff: 0.01 tomans per KB). Once your 100 MB is finished, you will need to buy a new package to access the internet again.

Important points about postpaid bills

How to receive my bill

MyIrancell application (View bill summary > Download bill/itemized bill > Selecting cycle > Bill summary PDF)
MyIrancell Web App
Email; using this method, the bill will be automatically emailed to you.
Post (paper bill); paper bills are only issued for amounts more than 20.000 Tomans.

You can send 1 to 2465 to go paperless and green and help protect the environment and also enjoy 1GB gift mobile internet valid until the end of activation.

Thank you for helping to preserve the environment.

You can also view your itemized bill for free through the following path in MyIrancell application (View bill summary > Download bill/itemized bill > Selecting Cycle > Bill details PD

How to pay my bill

Postpaid subscribers can use a variety of payment methods anytime anywhere, and always enjoy our services and products.

MyIrancell Web App
*7# USSD Code
Auto payment through bank account

You can activate this feature if you have an account in any of the following banks:

Melli Bank

Payment gateway of following banks: Tejarat, Pasargad, Mellat, Maskan, Post Bank, Ansar, Hekmat, Iran Zamin, Dey, Sarmaye, Eghtesad Novin

Referring to the bank

Mellat Bank: deposit the amount into account number 444440/96

Melli Bank: deposit the amount into account number 200219290008

Tejarat Bank: deposit the amount into account number 210447

How to check my payable amount

You can do one of the following:

Dial *555*1*2#
Refer to MyIrancell application
Payments will be done with a little delay when you choose to pay be your bank account; please keep this in mind if you're planning to use the one day free call and internet.

When paying the bill by referring to the bank, it will take 24 hours (Mellat bank) or 48 hours (Melli and Tejarat banks) to have the amount transferred and the payment implemented in Irancell billing system.

SIM Card Credit Limit

Like every postpaid subscriber, you have a Credit Limit for your account in MTN Irancell billing system. Credit Limit is the amount up to which you can use your SIM card services (voice, SMS, mobile internet, etc.) without having it soft suspended.

Check your Credit Limit by:

Dialing 700 and following the instructions
Referring to MyIrancell application or its web version
Dialing *555*1*5#

You can also change your Credit Limit based on your usage amount by:

Calling 700 or 900 from your MTN Irancell SIM card
Dialing *7*2#
Referring to MyIrancell application or its web version

Failure to make payments on or before the due date will result in your account being soft suspended. In this case you will not be able to make calls or send SMSs or use the internet. You will only be able to receive calls and SMSs until the balance of the bill is settled.
After 57 days of being soft-suspended and in case the bill is still not settled, the line will be automatically hard-suspended. Hard-suspended accounts will not be able to make/receive calls nor to send/receive SMSs.
Should the subscriber fail to pay his bill by the set deadline, a written notice will be sent to him by MTN Irancell and in case of failure to make the payment within the 12 months grace period, the mobile number will be withdrawn.

Promotions for MTN Irancell Postpaid SIM Card

Paper bill cancellation gift

You can take part in our paper bill cancellation campaign, and This way you would join our "No Paper Bill" campaign and help to save trees, in addition to that would enjoy 1 GB data package with 1 day validity for free. For more information, see the "Paper Bill Removal Campaign" page.

• Timely bill payment

Pay your mobile bill on time and be our guest for a year!

• Postpaid SIM Card Mobile Subscription Agreement

Here you can read the full text of Irancell Postpaid SIM Card mobile agreement for personal subscribers.

Question and Answer

How can I check my postpaid SIM usage?

You can follow one of the methods below to get informed about your postpaid SIM usage and manage your account better:

How can I access the usage details of my postpaid SIM calls?

When is my postpaid SIM card bill issued?

Postpaid SIM bills are issued every other month (in the odd months of the year) and you can settle them until 28 days after they're issued. Your bill will be sent to you via SMS & email (if you've submitted it).

How can I view and receive my postpaid SIM bill?

You can use MyIrancell mobile application or web app to view and receive your bill.

In MyIrancell mobile application:

View Bill > Download Bill/Itemized Bill in Previous Cycles > Download Bill

In MyIrancell web application:

View Bill Details > Download Bill

How can I stop receiving paper bills?

Note that by cancelling your paper bill, 1GB free valid for 1 day.

When is my postpaid bill due?

Your bill is due 28 days after it is issued (on the 28th day of odd months).

What if I don't manage to settle my bill?

If your bill is not settled after the time it's due, your line will go into partial suspension mode and in case you can't manage to settle it 57 days after its partial suspension, your line will be fully suspended. The ownership of lines which are fully suspended for a year and their unpaid bills are not settled, will be taken away.

It should be noted that bills with more than 20,000 tomans due are to be settled within 28 days after being issued. If your bill charges are less than this amount, you may settle it within the next three billing cycles.

How can I pay my postpaid bill?

How can I reactivate my SIM card after its suspension due to unpaid charges?

You can settle your due payment through one of the payment methods and your SIM card will be automatically reactivated within 24 hours.

What is the Available Credit Limit and how can I know about its amount?

The Available Credit Limit for postpaid SIMs is the maximum amount allowed to be used in one billing cycle. To know more about your available credit limit, use one of the following methods:

How can I change my SIM card's Available Credit Limit?

Dial *7*3# (only useful to increase your limit)
Call 700

How can I get informed about all the amazing gifts and discounts on my postpaid SIM?

To get informed about the special offers, gifts and discounts on your SIM card, you can go to our promotion page, follow our social media pages or subscriber to our newsletter.

How can I receive my bill and payment ID?

Text your mobile phone number to 2121.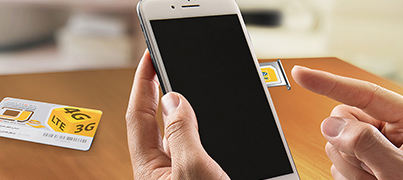 ​Upgrading 3G SIM card to 4G