Apple is one of the companies that try to show its pledge to support environmentalism. The emphasis and focus of the company on the use of renewable energies such as solar power plants for its data centers is an example of this effort. Now, Apple has introduced Daisy, a robot which is intended to be used to recycle dead iPhones. Here is an introduction to Daisy.
Daisy is a robot that is specifically designed to quickly disassemble parts of the iPhone's various models and recycle parts that can be used again. Daisy is in fact a recycled robot itself, made of parts from another recycled robot, Liam, which was launched in 2016. Daisy will first be used in the United States and Europe and then worldwide. As a result, the robot salvages raw materials so instead of joining more than 35 million tons of e-waste that hit landfills (2016 statistics), they can be recycled.
According to Apple, the new robot can disassemble nearly 200 iPhones every hour, which will push Apple closer goal to its goal of ending its reliance on mining for vital smartphone materials like cobalt. From every 100,000 iPhones disassembled by Daisy, Apple will be able to harness almost 1 Kg of gold, 7.5 Kg of silver, nearly 2 tons of aluminum, and 11 kilograms of rare minerals such as cobalt, Palladium, tungsten, tantalum, and tin.
Apple introduced Daisy in conjunction with the Apple GiveBack program, which encourages customers to ship their old Apple products for recycling and possibly receive Apple Store credit in return. "In recognition of Earth Day, we are making it as simple as possible for our customers to recycle devices and do something good for the planet through Apple GiveBack. We're also thrilled to introduce Daisy to the world, as she represents what's possible when innovation and conservation meet" Lisa Jackson, Apple's vice president of Environment, Policy, and Social Initiatives said in a statement.
Daisy's working procedure
As we said, Daisy is not Apple's first recycling robot. Apple introduced its first iPhone destruction solution in 2016, known as Liam. It was a 30-meter disassembly line, with 29 separate robots working on it, each tasked with a specific part of the deconstruction process. Liam was able to disassemble 300 iPhones per hour, but it only handled the iPhone 6. Now Daisy uses an entirely different design. In other words, Liam uses a 10-meter recycling line and although its operating speed has dropped to 200 iPhone per hour, it's capable of disassembling pieces on nine different models of iPhone phones (from the iPhone 5 to the iPhone 8 Plus, except for plastic 5C), without any change in the tools or downtime. Apple's new robot does this with only five robotic arms, some of which are in fact recycled from Liam.
The journey of each iPhone through the Daisy line takes about 2 minutes and spans four stations. First, the phone is placed on a conveyor belt where a computer-vision camera recognizes the devices and analyzes its orientation. A robotic arm picks up face-down phones, but the face-up phones go around to get in the line again.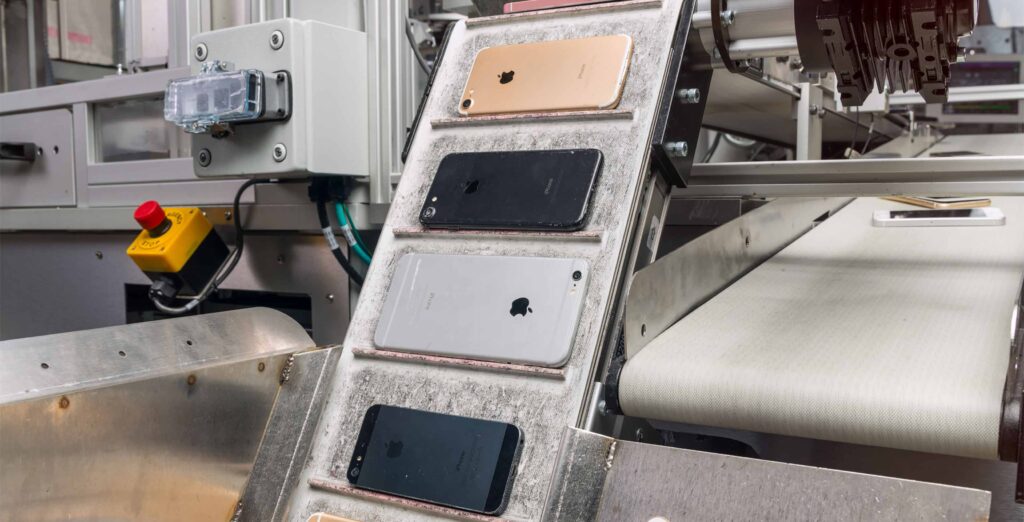 Another robotic arm rotates the phone so that an optical sensor evaluate whether or not the case is bent. This step allows the machine to adjust tool alignment during the deconstruction process. A series of pins then drive the screen away from the case which drops into a bin. Liam used a suction-based system to remove the display, didn't work with smashed glass. So, Daisy should be much better at dealing with severely damaged devices.
Another robotic arm picks up the and places it in one of the three battery removal stations. The system blasts the battery with -80 degree Celsius air to freeze it and free it. The robot then slaps the housing against a slab to drop the battery into an aluminum bucket.
Then it comes to the punch station, where a powerful stamper frees the screws that holds the phone parts together. The number of punches varies from 35 in the iPhone 5 to 54 in the iPhone 6 Plus.
The last robot picks up the phone and shakes it to free any pieces that may have come loose during the punching process. Then a spinning tool follows a pre-programmed pattern to eject the main components, like the rear camera, main logic board, speaker, and haptic module. Finally, the Apple logo and the ring around the camera module are also removed by a punch.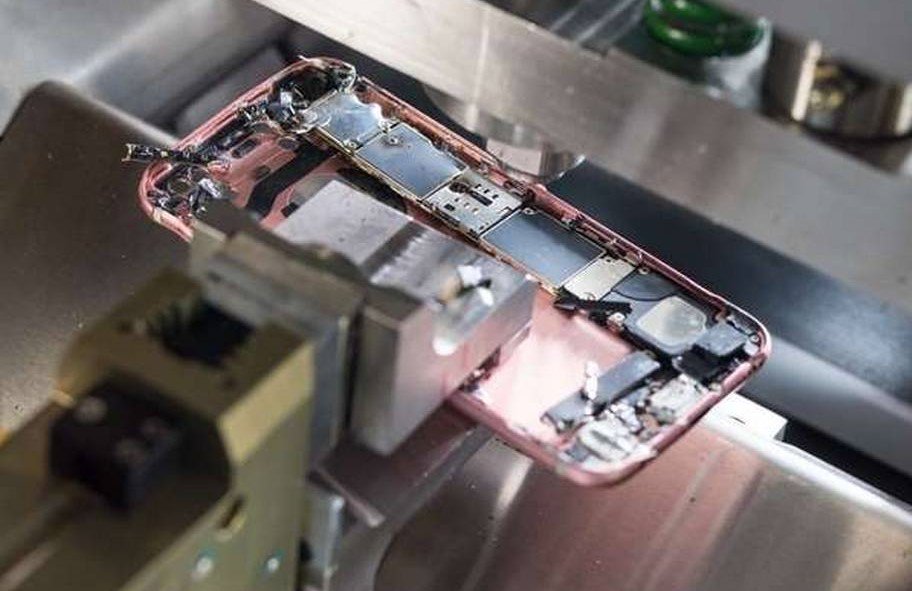 The case, which by now is full of holes, falls into one of the three bins according to the model. Plastic clips that hold pieces together remain on the aluminum cases because they are melting at a much lower temperature than the metal, which makes it easy to separate synthetic material later on.
At the end of the line, some arts are grouped based on the materials that can be recovered from them. For example, the camera and the main board include copper and precious metals like gold, silver, and palladium.
If successful, Apple's use of Daisy could encourage other tech companies to bring their recycling programs in-house. On the other hand, maybe the same trend encourage companies like Apple to build their phones differently, making components easier to access and therefore easier to recycle.
---