Internet setting for Windows Phone 8 Handsets
1. Go to Setting.
2. Click on Access Point option under Settings menu. In some handsets, Mobile Network option is available in this menu.

3. You can view a list of access points you have already created in the Access Point page. Click on Add in the bottom of the screen to create a new access point.

4. You should configure specifications of the new access point in new page. For this purpose, you only need to fill in the Connection Name and Access Point Name fields. Type Irancell-GPRS in the Connection Name and mtnirancell in Access Point Name fields and then click on Save.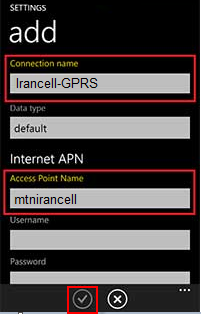 5. Click on OK.

6. The new Access Point Name has been created but it is Inactive.

7. To activate it, keep your finger on the APN name for a few seconds and choose Activate from the pop-up menu.

8. To activate Internet MBB services, go to Mobile Network tab and choose 3G from among the Highest Connection Speed options.

You can now enjoy MTN Irancell MBB Internet services by changing the above mentioned settings.