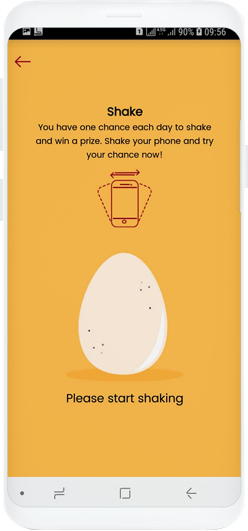 MyIrancell appreciates it's true, loyal users! Every day while working with MyIrancell app, tap on Shake and shake your handset to get surprised by various gifts such as online shop vouchers (e.g. Digikala, Snapp, etc.), or free data, voice and text packages!
Each day you have one chance to shake your phone and win.
The details of your gifts and discount code will be sent to you via SMS under "MTN Irancell".
Be our partner by putting your products' discount codes in Surprising Shake!
With more than 10 million active users, MyIrancell is among the top 5 apps in Iran. Due to its variety and number of users, it provides a dream platform for various services, helps brands to be recognized and increase product sales at the same time.
So with the ultimate goal of supporting Iran's businesses and startups, MyIrancell gives this opportunity to companies willing to offer users discount codes for their products in the Surprising Shake!
What's the Point of Joining Surprising Shake?
Enjoying a large and active target community for introducing products and services
Being part of MTN Irancell advertising campaigns for "shake" and thus enjoying a larger traffic on partners' websites
The ability to introduce startups to users through special offers
Terms of Cooperation:
Providing competitive vouchers for MyIrancell users
Promotional campaigns in social media and website aligned with MTN Irancell
Being responsible regarding customer complaints (MTN Irancell will define the SLA for responses).
MTN Irancell reserves the right to cancel the said vouchers, or replace them with other ones at any time.